Fishguard is about the only anchorage in Cardigan Bay accessible at all states of the tide. Tides are approximately Milford Haven + 0115; see Weather and Tides.
Lower Town harbour dries, but is usually accessible HW +/- 3. It's managed by Pembrokeshire County Council and the Harbour Master is Paul Butler (07812 559482). Visiting yachts can dry out against the quay if there's room.
The commercial port in Goodwick is managed by Stena Europe and discourages yachts.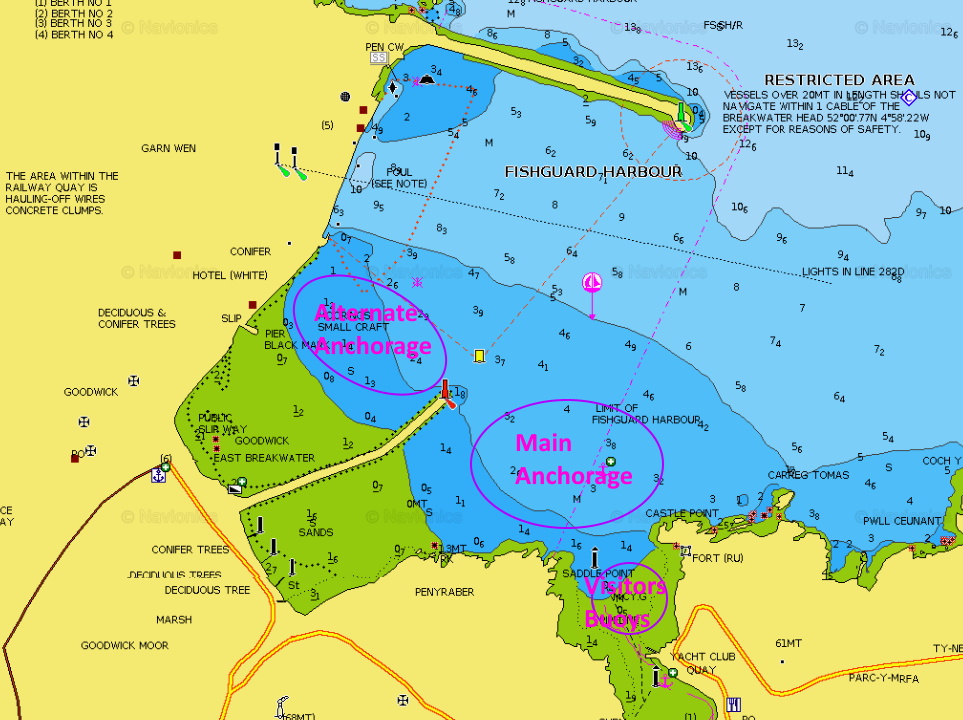 There are visitors' buoys in the entrance to Lower Town but most of them will dry at LW springs. The main anchorage is off Saddle Point and Castle Point, with good holding (sand) and not too far to row ashore. However it's open to winds from N to NE, so uncomfortable in moderate winds and not tenable in a gale.
An alternative anchorage is north west of the East Breakwater in Goodwick; this is more sheltered from the north but still not great in a north-easterly. Goodwick Sands are shallow within the East Breakwater so watch your depth.
There is water and power on Lower Town quay. Normally the Yacht Club showers are available, but not at the moment because of Covid-19 restrictions. The town has plenty of pubs (if you walk up the hill!), a large Co-op supermarket and other shops. In Goodwick there's a Tesco Express and a petrol station. There's Wifi on the quay and in the town centre. Unfortunately there's no longer a chandlery.
Aberporth Range (Cardigan Bay Danger Area)
If you're sailing between Fishguard and Aberystwyth or north Wales, check the firing times for the Aberporth Range – more information here, and the weekly firing times are here
Range Control: VHF Ch 11/1